Tread Lightly Gift Pack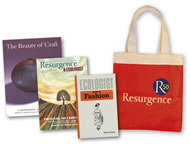 A selection of books and magazines on the theme of pilgrimage, spirituality and ecology. A perfect guide to enrich your life's journey and develop a deeper understanding of spiritual traditions.
Featuring:
Earth Pilgrim, Satish Kumar
No Destination Satish Kumar autobiography
Protecting the Countryside, Resurgence & Ecologist issue 281
£5 off voucher for membership to The Resurgence Trust
All presented in a free reusable eco-friendly bag featuring the Resurgence logo Live Lightly - Think Deeply.
ADD ONE of 'Tread Lightly Gift Pack' for £19.00 [REGP002]