Only Connect: Resurgence Anthology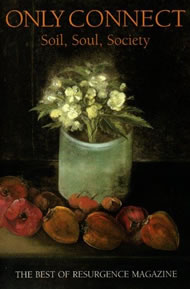 By various contributors
Special offer - now available at less than half price!
Purchase this book for just £6.00 (rrp £12.95)
To celebrate Resurgence's 200th issue and Editorial Jubilee, we have published Only Connect, an anthology of articles from the last ten years of Resurgence. Contributors include Wendell Berry, Lester Brown, Fritjof Capra, Noam Chomsky, Herman Daly, Larry Dossey, Matthew Fox, Vaclav Havel, Paul Hawken, James Hillman, Ted Hughes, Wes Jackson, David Korten, James Lovelock, Wangari Maathai, Gita Mehta, Neil Postman, Theodore Roszak, Vandana Shiva and Sting.
ADD ONE of 'Only Connect: Resurgence Anthology' for £6.00 [REBK004]