Join Us
Treat yourself to six issues a year of Resurgence & Ecologist when you join The Resurgence Trust.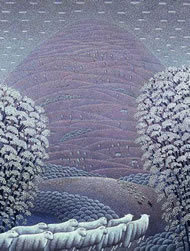 Free pack of 5 Resurgence cards plus £5 off, with every new print membership - use code Q7278 during check out.
Resurgence & Ecologist offers positive perspectives on a range of engaging topics from environmental issues to social justice and philosophical thinking to the arts - an eclectic mix that cannot be found anywhere else.
Published bi-monthly, each issue contains feature articles by respected writers, news from the frontline of the environmental movement, ideas on ethical living, book reviews, poetry and arts profiles.
Recent contributors include Margaret Atwood, Michael Morpurgo, Antony Gormley, Rowan Williams, Vandana Shiva and Polly Higgins...the list goes on.
The magazine is published in two versions: print and online (e-membership). The content is the same in both versions.
When you take out a new print membership of The Resurgence Trust we will send you six issues of Resurgence & Ecologist a year, plus a free pack of 5 Resurgence cards plus £5 off with every new print membership - use code Q7278 during check out.
Please note: if you have received an alternative membership offer, you will have the opportunity to add a different code during check out. You will receive the offer associated with that promotional code.
To take out a new membership, a gift membership or renew an existing membership select the appropriate options on our membership form.
Membership Rates - six issues a year
| Type | 1 year | 2 years | 3 years |
| --- | --- | --- | --- |
| United Kingdom | £30.00 | £55.00 | £80.00 |
| Non-UK Surface Mail | £35.00 | £65.00 | £96.00 |
| Non-UK Air Mail | £40.00 | £75.00 | £110.00 |
| e-Membership | £18.00 | 1 yr only | 1 yr only |
Your membership will support the educational work of The Resurgence Trust which promotes ecological sustainability, social justice and spiritual values. If you are a UK tax payer, The Resurgence Trust can claim Gift Aid on your payment (currently 25p for every £1 you give) so you can help raise additional funds for our educational work at no extra cost to yourself.
Payment
Paying by credit/debit card
Card payments are charged in GB Pounds Sterling (£) and converted into your country's currency by your card issuer at the current daily exchange rate. A small fee may be charged by some card providers for a foreign credit card transaction.
Paying by cheque
To pay by cheque, please write to us with your name and address enclosing your cheque made out to The Resurgence Trust. Send to the Membership Department.
Paying by telephone
To pay by phone, please choose your membership type (print/online) first, have your address and credit/debit card payment details ready, and then call our Membership Department. Remember to quote 'internet offer' to claim your free gift.
Want a sample copy?
If you've never seen the magazine, you can get a sample copy. Find out more here.
Enquiries
For membership enquiries, please contact our Membership Department.
Last ordering dates for Christmas delivery
UK
Thur 19 Dec 2013
Overseas • Airmail
Tue 03 Dec 2013: South and Central America, Caribbean, Africa, Middle East, Asia, Far East (including Japan), New Zealand, Australia.
Sun 08 Dec 2013: Eastern Europe, Cyprus
Mon 09 Dec 2013: Western Europe, USA and Canada.
Overseas • Surface Mail
Tue 15 Oct 2013: South Africa, Hong Kong, Singapore, USA and Canada.
Mon 04 Nov 2013: Eastern Europe, Greece, Cyprus, Turkey, Malta and Iceland.
Mon 18 Nov 2013: Western Europe.
Please note
UK Christmas Gift memberships will start with Jan/Feb 2014 issue, unless you ask us to start with an earlier issue when completing the membership details form.
Overseas Christmas Gift memberships will start with the Nov/Dec 2013 issue. Please note, the Jan/Feb 2014 issue will not be available in time for Christmas delivery to overseas addresses.
Missed the last ordering date? Why not send a Resurgence & Ecologist e-Membership instead? More information here